Here's an utterly, butterly bizarre ode to Canada's Prime Minister Justin Trudeau that we didn't know the world needed. In 2016, Mr Trudeau was photographed cuddling two admittedly adorable panda cubs. And now, a dairy likeness of the viral picture is up on display at Toronto's Canadian National Exhibition, or CNE.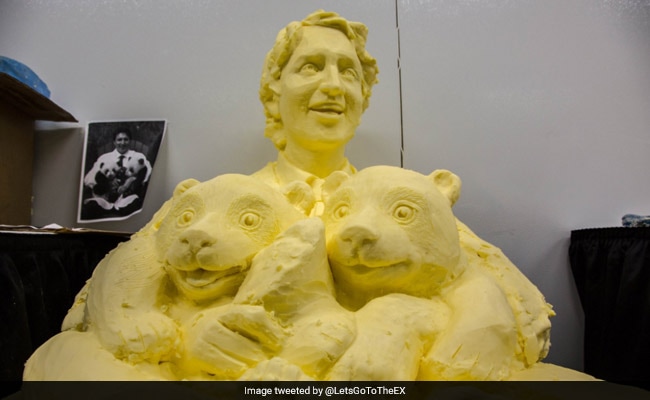 Butter sculptures are an annual tradition at the CNE, according to their website. And this year's theme for butter sculptures is "Wild in the 6," featuring the Greater Toronto Area's most memorable animals. The theme, according to BlogTO, is inspired by "infamous Toronto animals that have gone viral, from the PM's photo op with the baby pandas to the elusive High Park capybaras."
Check out the butter sculpture below:
What is better than seeing yourself made of butter @JustinTrudeau! #letsgototheex pic.twitter.com/OFUd6iA56C

— CNE (@LetsGoToTheEX) August 22, 2017
According to the Daily Hive, the sculpture is a "collaborative work-in-progress" by artists David Salazar, Olenka Kleban, Laird Henderson and Bailey Henderson.
The panda cubs Mr Trudeau was photographed with last year live at the Toronto Zoo. Their names are Jia Panpan and Jia Yueyue, which mean Canadian Hope and Canadian Joy, respectively.
Today I had the pleasure to unveil the names of @TheTorontoZoo's panda cubs! Say hello to Jia Panpan & Jia Yueyue: pic.twitter.com/iFCAlID7bc

— Justin Trudeau (@JustinTrudeau) March 7, 2016
Here's what the Internet thinks of the butter sculpture:
This butter sculpture of Justin Trudeau snuggling baby pandas is Canada's gift to the world. You're welcome, world. https://t.co/GDclnzVZRe pic.twitter.com/3WTdB30Czj

— Lauren O'Neil (@laurenonizzle) August 22, 2017
An actual butter sculpture of Justin Trudeau hugging bears pic.twitter.com/J1ZRnLhiM2

— Dennis Besana (@DennisBesana) August 23, 2017
theres a butter sculpture of justin trudeau hugging pandas and I'm thoroughly convinced that this is the best prime minister we've ever had

— megs (@meagan_crothers) August 22, 2017
Has PM Trudeau met butter Trudeau yet?

— Will Fowler (@thefutureyousee) August 22, 2017
That's quite some art. But man what a waste of butter #Trudeau #buttersculpture https://t.co/nEH0IfJIme

— Jasleen (@JasleenK0) August 22, 2017
After the 18-day fair concludes on September 4th, the unsalted butter used in the sculpture will be composted.
Trudeau simply must go to the CNE and take a selfie with his butter half. How deliciously meta!

— Sharon Boddy (@DasBod) August 22, 2017
0