It's Friday and if that wasn't enough to make you happy, here's Canada's Prime Minister Justin Trudeau hugging a lovable unicorn puppet.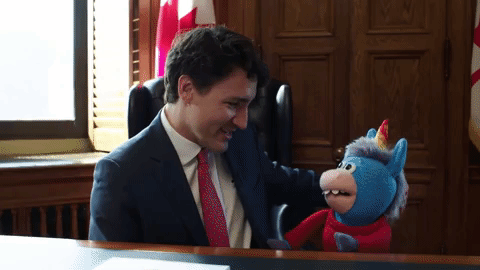 Mr Trudeau recently made an appearance on a popular segment of a Canadian television channel geared towards children. In the minute and a half long video, Mr Trudeau meets Gary, an enthusiastic talking unicorn puppet from CBC Kids, in his office.
Turns out, Gary loves giving (and getting) hugs. In the video, he asks the Canadian prime minister whether he'd like to be a part of "Gary's Hug Club" and Mr Trudeau willingly obliges.
"I'm gonna do what I want to do all the time when I meet people: give them the biggest, squeeziest hug that I can!" Mr Trudeau tells Gary in the video. He then proceeds to wrap Gary in a tight embrace.
"I'm never going to wash my sweater again," jokes Gary as Mr Trudeau pulls away from him.
Watch the video below:
0